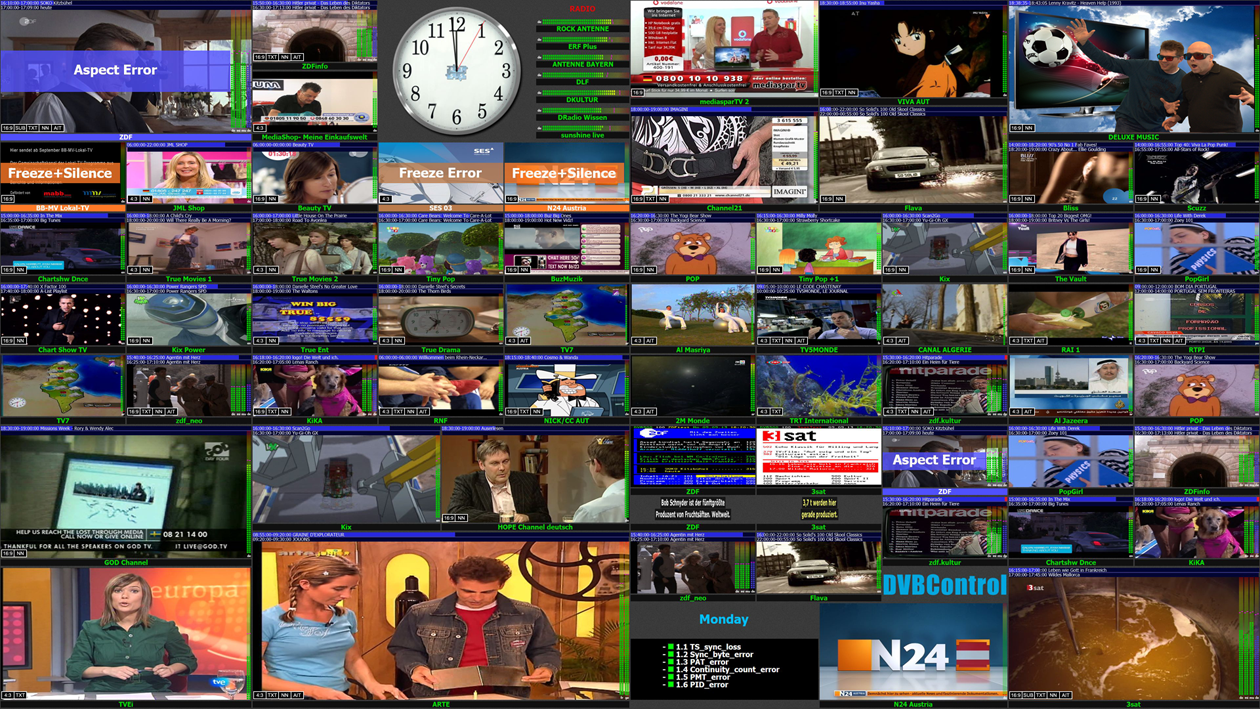 Real-time mosaic overview showing multiple services received from multiple Transport Streams.
Detection, visualization and signaling of freeze, black, silence, PID lost, service lost and input lost behavior.
Intuitive configuration for multiple walls, which can decode MPEG-2/AVC/HEVC Video, MPEG, AAC and Dolby® Audio, Teletext and DVB-Subtitles. Walls can be completed using clocks and graphics.
Features
Freeze detection
Black detection
Silence detection
Input Lost detection
PID Lost detection
Service Lost detection
Multiple walls
Acknowledge mode
Visual signalling
Audio alerts
SNMP traps
Mail alerts
DVBMonitor connectivity
MPEG-2 / AVC (H.264) / HEVC (H.265) video
MPEG / AAC, Dolby® Digital+, Dolby® E, Dolby® AC-4 audio
Web enabled
Remote control
Teletext
DVB-subtitles
Clocks
Images
Preferences
Aspect ratio detection
ETR-290 (Level 1) measurements
Input Support
File, HD/SD SDI, ASI, DVB-C, DVB-T/T2, DVB-S/S2, DVB-H, Unicast, Multicast, SRT
Live OTT Streaming (RTSP/RTMP/RTP/HLS/Smooth Streaming/MPEG_DASH)