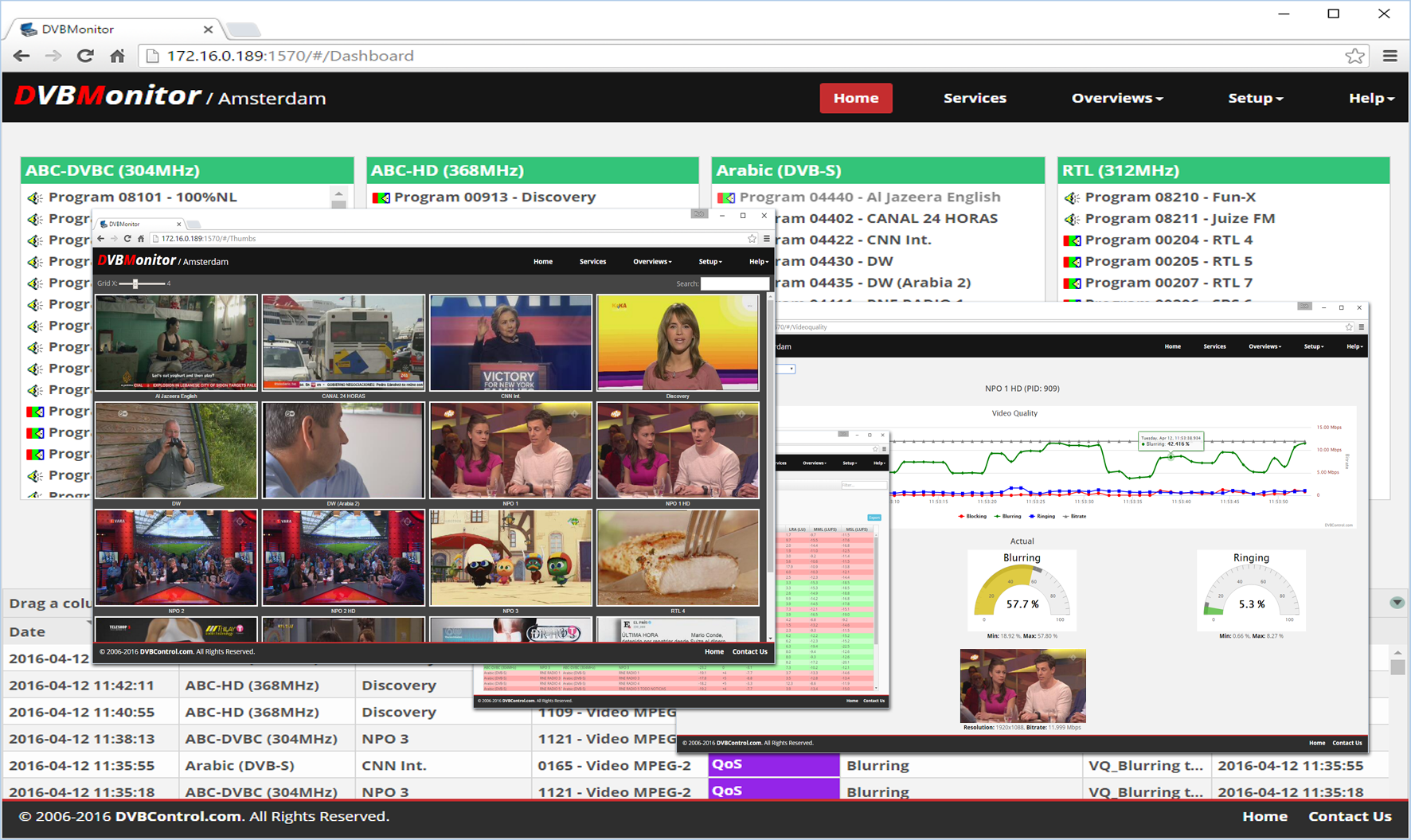 DVB Networks are getting more complex rapidly. Besides the growing amount of Services, also the varieties of components that must connect and interact in a specific way to be successful are getting beyond human perception.
All activities together are responsible for the behavior and quality of a DVB network. Thereby DVB networks evolve constantly with changes in services, parameters, devices and their firmware releases. It can be concluded that a DVB network owner constantly needs to be aware of the quality of his DVB network! The most reliable means to know how a DVB network performs is to continuously measure in real-time its behavior through comparison to a set of recommendations for various stream elements.
The key question which has to be answered is: What do you accept or not in your DVB network?
To ensure that all DVB signals meet the customer requirements, constant real-time compliancy checks are needed.
Features
Web based Application
Multiple Transport Streams
Multiple Configurable Compliancy Checks
Multiple Templates
Multiple Notifications
Multiple Organizations
Multiple Sites
Multiple Users
Freeze detection
Black detection
Silence detection
Input Lost detection
PID Lost detection
Service Lost detection
Multiple walls
Acknowledge mode
Visual signalling
Audio alerts
SNMP traps
Mail alerts
DVBMonitor connectivity
MPEG-2 / AVC (H.264) / HEVC (H.265) video
MPEG / AAC, Dolby® Digital+, Dolby® E, Dolby® AC-4 audio
Web enabled
Remote control
Teletext
DVB-subtitles
Clocks
Images
Preferences
Aspect ratio detection
ETR-290 (Level 1, Level 2, Level 3, and 4*) measurements
SCTE-35 monitoring/logging
PID structures
Service structures
SI/PSI/PSIP structures
ETR-290 compliance
Timing
Descriptors
Bitrate measurement
Teletext
Subtitling
Thumb overview
Video Quality
GOP structures
PTS-DTS Timing
Table overview
Table Change monitor
Descriptor overview
Hex Viewer
PCR Timing
Logging
Filtering
EPG
Audio measurement
Loudness measurement
Input Support
File, HD/SD SDI, ASI, DVB-C, DVB-T/T2, DVB-S/S2, DVB-H, Unicast, Multicast, SRT and
Live OTT Streaming (RTSP/RTMP/RTP/HLS/Smooth Streaming/MPEG_DASH).