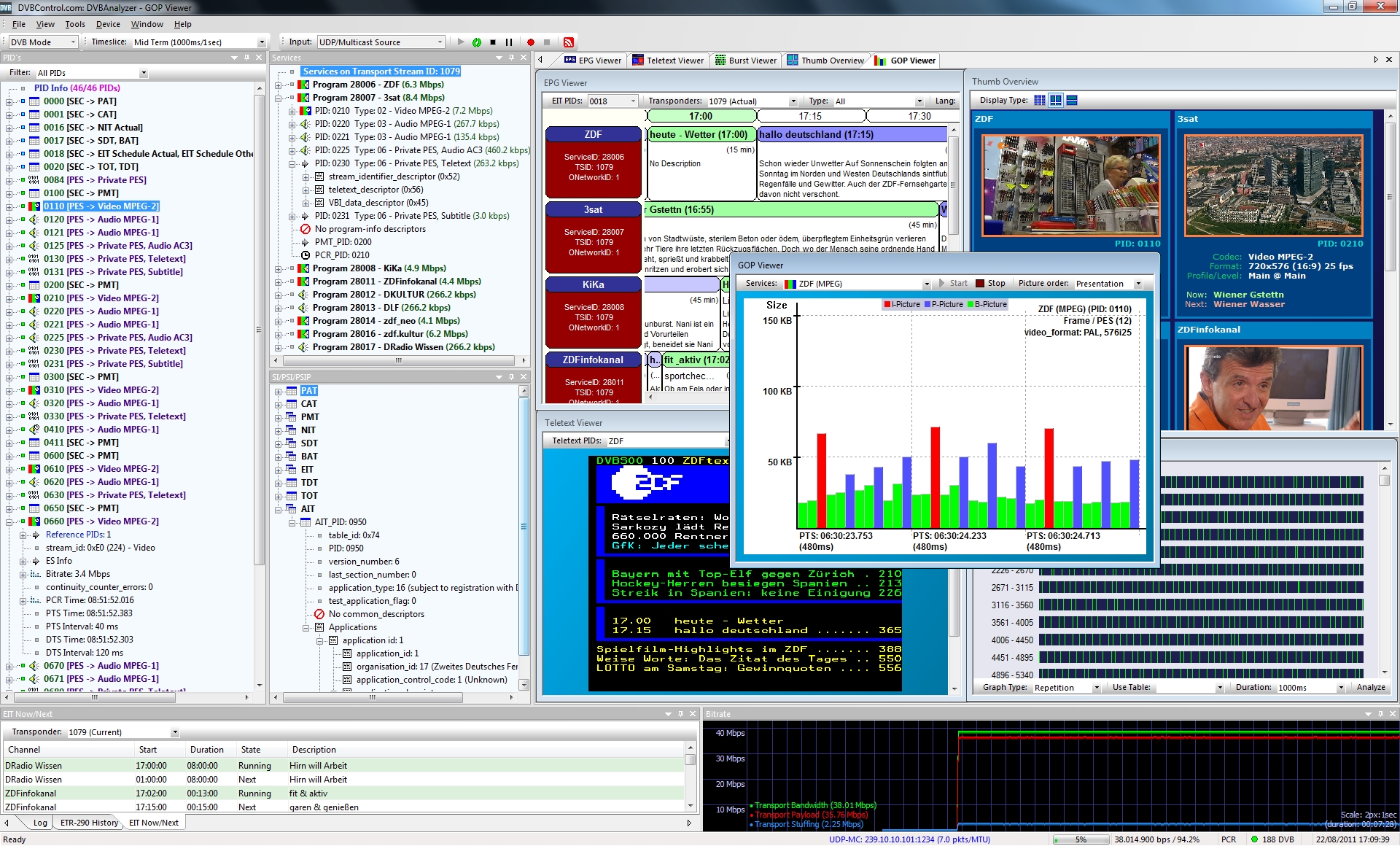 DVBAnalyzer enables powerful analyzing of all aspects of DVB/ATSC/ISDB Transport Streams.
This can be done with high level summary overviews, down to bit interpretation.
By quickly identifying different fields of interest, DVBAnalyzer helps developers, broadcasters, system integrators and field engineers during maintenance, development and testing of equipment, network and services.
Features
PID structures
Service structures
SI/PSI/PSIP structures
ETR-290 compliance
Timing
Bitrate measurement
Teletext
Subtitling
Layout Manager
Thumb overview
Media Viewer
UDP Multicast output
Video Quality
Logical Channel
Private Data
Object/Data Carousels
GOP structures
PTS-DTS Timing
Buffer behaviour
Audio measurement
Loudness measurement
MPEG-2 / AVC (H.264) / HEVC (H.265) video
MPEG / AAC, Dolby® Digital+, Dolby® E, Dolby® AC-4 audio
Table overview
Descriptor overview
Bitrate Distribution
Hex Viewer
Burst Viewer
PCR Timing
IP Traffic
Logging
Filtering
Plugins
Preferences
EPG
Multiple views
SCTE-35 Viewer
DVB-T2 Viewer
AIT-Viewer
DVB-H analysing
3D
Input Support
File, ASI, DVB-C, DVB-T/T2, DVB-S/S2, DVB-H, Unicast, Multicast, SRT and
Live OTT Streaming (RTSP/RTMP/RTP/HLS/MPEG_DASH).